Visionary Alchemy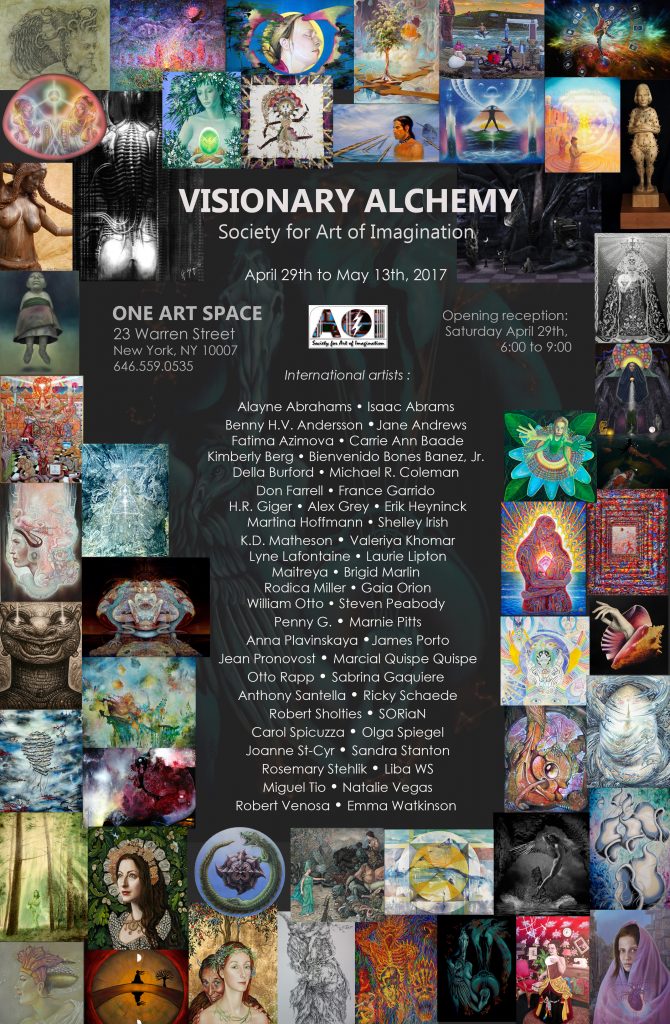 The Society for Art of Imagination is proud to present an exhibition of its membership. Numerous participating artists will be attending the OPENING RECEPTION, SATURDAY, APRIL 29, 6-9 PM. We'd be delighted if you would join us!
This exhibition will feature imaginative, representational works by many of the world's great creators of fantastic realism, surrealism, pop surrealism and visionary art. Here is a full list of artists whose work will be represented in this not-to-be-missed collection….
Alayne Abrahams, Isaac Abrams, Benny HV Andersson, Jane Andrews, Fatima Azimova, Carrie Ann Baade, Kimberly Berg, Bienvenido Bones Bañez Jr, Della Burford, Michael R Coleman, Don Farrell, France Garrido, H.R. GIger, Alex Grey, Erik Heyninck, Martina Hoffmann, Shelley Irish, KD Matheson, Valeriya Khomar, Lyne Lafontaine, Laurie Lipton, Maitreya, Brigid Marlin, Rodica Miller, Gaia Orion, William Otto, Steven Peabody, Penny G, Marnie Pitts, Anna Plavinskaya, James Porto, Jean Pronovost, Marcial Quispe Quispe, Otto Rapp, Sabrina Gaquiere, Carol Spicuzza, Olga Spiegel, Joanne St-Cyr, Sandra Stanton, Rosemary Stehlik, Liba WS, Miguel Tio, Natalie Vegas, Robert Venosa and Emma Watkinson.